The St-Etienne Parc des Expositions is getting ready to welcome the Saint Etienne Fair on 25 September!
It was the watchword for this operation and despite lockdown and work stoppages, our Lyon teams took up the challenge!
Our teams welcomed several dignitaries during the site visit on Thursday, 27 August, including Gaël Perdriau, President of Saint Etienne Métropôle and Mayor of Saint Etienne, Georges Ziegler, President of the Department of Loire, Christophe Cizeron, Managing Director of GL Events Venues and Laurent Wauquiez, President of the Auvergne-Rhône-Alpes Region, who stated: "It's a miracle what you have just done and a sign of optimism. In a time where there is nothing but bad news, we have managed to give Saint-Etienne a facility that the town well deserves".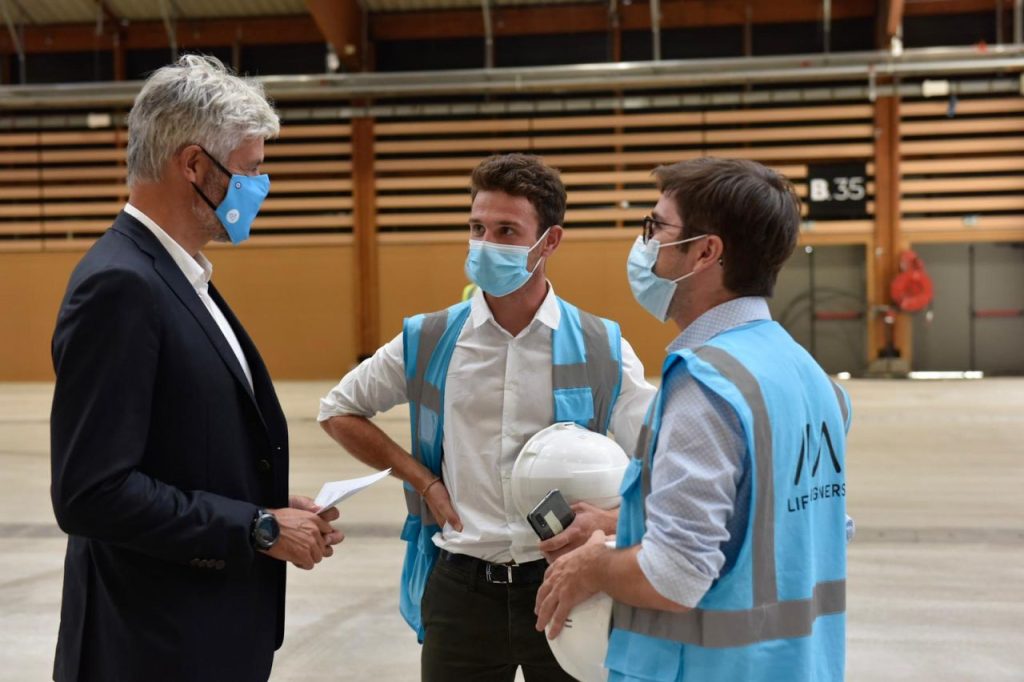 Our two Works Directors on site, Carlos Ribeiro and Raphaël Bonelli, talking to Laurent Wauquiez.
© photo (Laurent Wauquiez' communication team)
Key project info.:
Modernisation project of the Parc des Expositions in the town of St Etienne with refurbishment of an existing Hall covering 7,376 m2 and construction of a new hall of 8,100 m2. Our intention was to offer a facility with architectural qualities promoting the culture of the Design with reference to the town of Saint-Etienne whilst responding to the many regional motivations and ambitions by incorporating existing and future urban developments in collaboration with EPASE.
Surface area: 18,462 m² floor area
Cost of works: €17.28M excl. VAT + €1.825M additional works
Design studies: 4.5 months
Works: 11 months
Delivery: September 2020
Project players:
Project Owner: ST ETIENNE EVENEMENTS
Project Owner Representative: FONCIERE POLYGONE
Lead Architect: AIA ARCHITECTES
Associate Architect: CIMAISE ARCHITECTE
Roads and utilities engineering + Structure (Shell and Framework) + Economics: AIA INGENIERIE
FLUIDS engineering: DP CONSEILS
Signage: PRADEL