The new Nort-sur-Erdre secondary school, designed by AIA Life Designers, was opened on Tuesday, 1 September 2020 in the presence of Christelle Morançais, President of the Pays de la Loire Region. A true environmental and architectural reference, this 4.0 secondary school meets the highest standards of energy efficiency and is part of a circular economy logic.
Financed entirely by the Region for a total of 37 million euros, the school, which extends over 2.55 ha of land for 12,500 m2 of built area, has a capacity of 1,000 students, which can be extended to 1,200.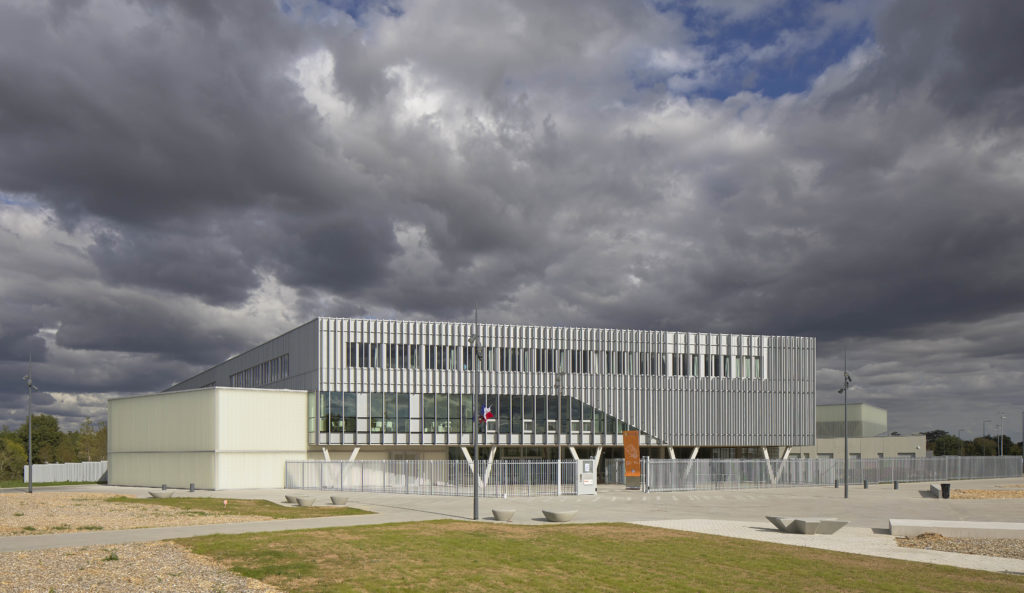 An E+ C- secondary school based on the regional standard of architectural, technical and economic sobriety.
An ambitious approach to limit the environmental impact of the building throughout its life cycle guided the design and construction of the school.
Recourse to bio-sourced (plant- or animal-based), geo-sourced (mineral origin) or recycled materials:
Recycling and re-use of site waste;
Environmental efficiency: planted roofs, rainwater recovery, mixed wood and gas boiler room, etc.;
Landscaping encouraging the diversity of animal and plant species.
This exemplary eco-design has led to "NF tertiary buildings – HQE approach" certification, as well as the "E+C- Effinergie BBC 2017" (Positive Energy and Carbon Reduction Building) and "Bio-sourced Building" level 3 labels, testifying to the high level of requirements in terms of understatement, energy efficiency, quality and comfort.
The project has been selected as part of the HQE (High Environmental Quality) Performance Circular Economy test launched by the HQE-GBC Alliance, which analyses the life cycle of the building to assess the impact of the actions carried out in terms of circular economy.
The Nort-sur-Erdre secondary school is also the first to emerge from the regional benchmark for architectural, technical and economic sobriety: a tool to help define understated, functional and high-quality architectural projects, developed by the Pays de la Loire Region.
It is also a finalist for the Procura+ Awards 2020 European trophies for best public procurement practices.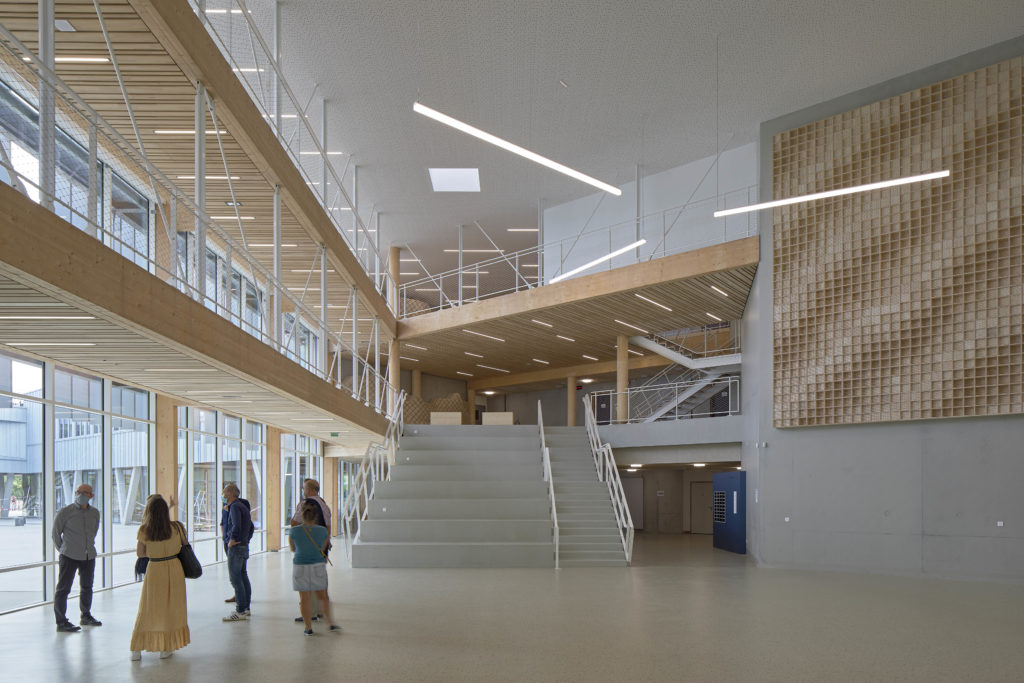 A new generation establishment open to its territory
This school has been designed as a place of learning, living and exchanging open to its territory. It is part of the ambition of the AIA Life Designers Group to develop architectural projects with exemplary environmental design capable of meeting changing uses.
Schools are part of the group's areas of excellence; it has collaborated in particular with the Nantes School of Design on a white paper entitled "the school of tomorrow", which aims to design the educational establishments of tomorrow[1].
[1] White paper "Fashioning the school", AIA Life Designers and the Nantes Atlantique School of Design
Project Owner: Pays de la Loire Region
Project Manager:
Architects: AIA Architectes
All building trades engineering + Economics: AIA Ingénierie
Environmental expertise: AIA Environnement
SCMC: AIA Management
Programme: Multi-purpose secondary school for 1,000 pupils (can be extended to 1,200
– 45 classrooms,
– 1 conference room,
– Administrative centre/staff rooms/school life,
– General and scientific teaching rooms, occupational teaching (aid for businesses and for the individual),
– Pupils' residence,
– Health centre
Surface areas: 12,489 m² floor area – 9,757 m² usable area, on 2.5 hectares
Cost: €37M excl. VAT
Timetable: Competition winner February 2017/Delivery June 2020

Photo: © Franck Dubray/extract from article in Ouest-France on 1 September 2020.
(left to right: Céline Leduby – AIA Life Designers architect, Christelle Morançais – President of the Pays de la Loire Region, William Marois – Rector of the Academy of Nantes)